Car Wrap vs Car Paint – Let's see who is the big winner
There are several different reasons why you might be thinking about giving your car an entirely new appearance. Maybe you run and operate a small business adding your business logo and branding to a vehicle can actually be a sound business decision. Or maybe you want to create a truly one-of-a-kind vehicle that nobody else on the road will have. If that's the case, should you wrap or should you paint?
To answer that question, keep these 6 important points in mind:
#1:Car Wrap vs Car Paint –  

Cost

As a rule of thumb, it's more cost-effective to wrap a car rather than paint it. Moreover, you don't need to do a full wrap – you can also do a partial wrap, such as just the roof or just the hood – in order to keep the costs down. You will pay anywhere from $2,000 to $10,000 for a paint job whereas you will pay anywhere from $500 to $5,000 for a wrap job.
Winner: Car Wrap
#2: Car Wrap vs Car Paint – Longevity
Of course, most custom auto shops that specialize in wraps will tell you that a full body wrap will last "for the life of the vehicle." But they are usually overstating matters. Unless you're hand washing your car and using car wrap "after care" products, even the best wraps are only expected to last a few years. That makes sense, right? After all, the reason you're wrapping is because you want to keep changing the appearance of your vehicle.
Winner: Car Paint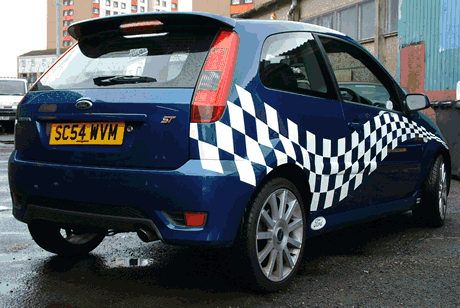 #3:
Car Wrap vs Car Paint – Customization
There's simply no way you can achieve the same amount of customization with paint as you can with a wrap. For this reason, you can think of every wrap as a custom-made, one-of-a-kind creation designed to make your car stand out on the road. Plus, since you have a wider choice of materials, you also have a wider choice of colors and even textures.
Winner: Car Wrap
#4: Vehicle protection
Think of a car wrap as a very thin layer of vinyl that is applied to the top of an existing paint job. That layer protects the original paint from factors like the sun, rain, hail and the elements. You will protect your car and preserve its resale value later
Winner: Car Wrap
#5: Car Wrap vs Car Paint – Ease of application
In order to keep a wrap in place, some auto parts shops will remove parts of your car, such as doors, bumpers and mirrors. That's one way that you can tell a high-quality wrap job from a low-quality wrap job: a top-notch wrap will completely cover your car and be "tucked inside" doors and other parts of your vehicle. Needless to say, this complicates matters somewhat and can add to the price.
Winner: Car Paint
#6: Reversibility
The whole point of a wrap is to create a custom look for a relatively short period of time. For example, think about racecars. Many of them are wrapped instead of painted because the names of sponsors are constantly changing. If a wrap has been done correctly, you can simply peel it off, and all of the original paint will remain intact. Afterward, you've got your original car back!
The Bottom Line
Most car experts will tell you that there's a time to wrap, and there's a time to paint. If the paint of your car is in excellent condition – no chips, no scratches and no rust – it's much easier and cost effective to wrap. But, as we've seen above, you need to keep other factors than cost in mind.
Have you recently painted or wrapped your car? Share your story below.